---
Nickolas Butler

June 1, 5:00 pm at Bella Caffé
We're thrilled to be hosting an event with Nick Butler in June! Nick's previous novels, Shotgun Lovesongs and The Hearts of Men, were favorites of staff and customers alike, and we know you'll love his latest book, too. Little Faith is the story of Lyle and Peg Hovde, who live a quiet life in rural Wisconsin. Years earlier, their infant son died, creating a quiet crisis of faith for Lyle. Life went on, and soon he and Peg adopted a daughter, Shiloh, who left home as soon as she could. She's back now, with a five year old son, Isaac. Lyle and Peg dote on the boy and have settled into a comfortable routine with him and his mother.However, Shiloh becomes infatuated with the leader of an almost cultish church in nearby La Crosse. Her parents worry about her, and particularly about Isaac, whom they think Shiloh's boyfriend is using for his own purposes. The book is beautifully written and the characters dealing with issues of faith, doubt, and family seem like people you might know.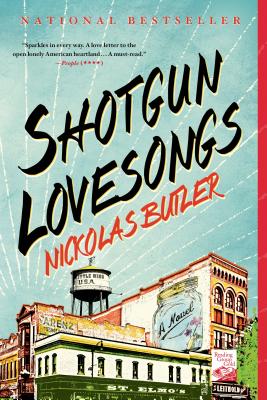 This event will be next door, in the atrium at Bella Caffé. Join us as we welcome Nick to Park Rapids and hear about Little Faith.
The book will be released March 5, and we'll have copies in the store then.