---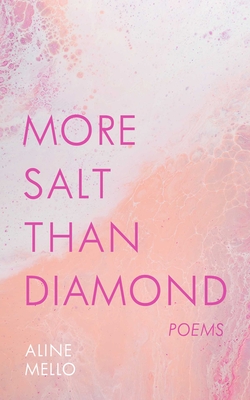 More Salt Than Diamond
Aline Mello
The title of this collection comes from the poem Self-Portrait:
I am more water than oil, more salt
than diamond, than quartz. When I am alone,
I am a moon longing for collision.
Aline Mello is a poet, a woman, an immigrant, a Brazilian, an American, a grand/daughter, a struggler, and more. None of these descriptors alone is the poet, but neither is she complete without all of these pieces. Her poetry has a way of conveying that which is uniquely her and how that fits into the less unique experience of life as an American (both North and South.)

One of my favorite poems from this collection is titled "Salt Water" and these lines I find especially poignant/telling of the poet:
Squinting in the sunlight, you will wonder
what part ocean, what part sweat, and
what part tears is the salt on your tongue
Read a few complete poems of Aline Mello.